About the Primordial Sound Meditation Course Developers
Primordial Sound Meditation Course Developers
Primordial Sound Meditation course developers are Drs. Deepak Chopra and David Simon, a board-certified neurologist.
Together, they founded the Chopra Center for Wellbeing in Carlsbad, California to offer individuals from around the world programs in stress management, mind-body medicine, emotional healing, and life transformation. They have each practiced medicine for more than 35 years.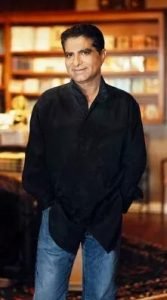 Dr. Deepak Chopra
Acknowledged as one of the world's greatest leaders in the field of mind-body-spirit medicine, Dr. Chopra continues to transform our understanding of the meaning of health and healing.
The author of more than 45 books in 25 languages with close to 30 million copies in print, Deepak is changing the way the world views physical, mental, emotional, spiritual, and social wellness.
What Our Patients are Saying
"When my son was preparing for the SAT, I hired Dr. Jones to teach him Primordial Sound Meditation, to help with the stress of the test prep and the test itself. He helped him get 1490 out of 1600 on his SAT, and my son still meditates to this day. It helps him relax and stay focused on his goals."
– Sherri Wessler
"I recently was enrolled in a meditation class taught by David Jones. The sessions were wonderful! David is very knowledgeable about his subject and he is able to convey the material in a concise and understandable way. He is very personable and was very kind to answer all questions."
– David Lowery
Learn More About Our Primordial Sound Meditation Services:
Schedule a Free Consultation Today
Schedule a Free Consultation Today
Schedule your appointment by phone or online.