About Primordial Sound Meditation Course Developers
Primordial Sound Meditation course developers are Drs. Deepak Chopra and David Simon, a board-certified neurologist. Together, they founded the Chopra Center for Wellbeing in Carlsbad, California to offer individuals from around the world programs in stress management, mind-body medicine, emotional healing, and life transformation. They have each practiced medicine for more than 35 years.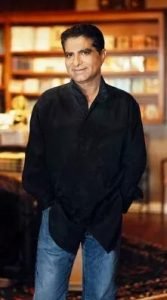 Dr. Deepak Chopra
Acknowledged as one of the world's greatest leaders in the field of mind-body-spirit medicine, Dr. Chopra continues to transform our understanding of the meaning of health and healing. The author of more than 45 books in 25 languages with close to 30 million copies in print, Deepak is changing the way the world views physical, mental, emotional, spiritual, and social wellness.
Schedule Your Free Consultation Today
Your freedom from pain and stress starts now.
NCCAOM National Board-Certified Acupuncturist™